The Guinevere Deception (Camelot Rising, #1)

by Kiersten White
Pages: 352
Published by Delacorte Press
Release Date: November 5th 2019
Genres: Fantasy, YA
Source: Publisher
Format Read: ARC, Paperback
Goodreads


From New York Times bestselling author Kiersten White comes a new fantasy series reimagining the Arthurian legend, set in the magical world of Camelot.
There was nothing in the world as magical and terrifying as a girl.
Princess Guinevere has come to Camelot to wed a stranger: the charismatic King Arthur. With magic clawing at the kingdom's borders, the great wizard Merlin conjured a solution--send in Guinevere to be Arthur's wife . . . and his protector from those who want to see the young king's idyllic city fail. The catch? Guinevere's real name--and her true identity--is a secret. She is a changeling, a girl who has given up everything to protect Camelot.
To keep Arthur safe, Guinevere must navigate a court in which the old--including Arthur's own family--demand things continue as they have been, and the new--those drawn by the dream of Camelot--fight for a better way to live. And always, in the green hearts of forests and the black depths of lakes, magic lies in wait to reclaim the land. Arthur's knights believe they are strong enough to face any threat, but Guinevere knows it will take more than swords to keep Camelot free.
Deadly jousts, duplicitous knights, and forbidden romances are nothing compared to the greatest threat of all: the girl with the long black hair, riding on horseback through the dark woods toward Arthur. Because when your whole existence is a lie, how can you trust even yourself?
*THE FIRST BOOK IN THE CAMELOT RISING TRILOGY*
I received this book for free from Publisher in exchange for an honest review. This does not affect my opinion of the book or the content of my review.
Kiersten White has covered some of my favorite topics with Slayer (and upcoming Chosen!) diving deeper into the world of Buffy the Vampire Slayer and the eerie horror of The Dark Descent of Elizabeth Frankenstein taking the question of whether Frankenstein the doctor or the creation was more of a monster to new heights. So when I saw that she was coming out with a trilogy based on Queen Guinevere, Camelot, and Arthur and his knights I immediately wanted to get my hands on it.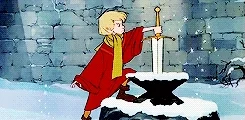 Not going to lie to you, I found the beginning to be pretty slow. It was mostly world building, which makes sense since it's a trilogy and some people might not be familiar with the legend of King Arthur, Excalibur and his round table, but i'm not a huge fan of when the first book in a series mostly just sets things up for the rest and I feel like that is what happened here. By the end of the book (the last 1/3 was action-packed adventure and high stakes decisions which I loved) all the players are finally on the board and it seems like the real story is ready to begin.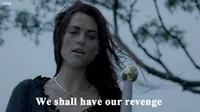 What I found most compelling about the story was how it took what we already knew about the characters and flipped around our expectations. Instead of a regular Queen, Guinevere is a magical protector for King Arthur in a land that is trying to destroy magic. Mordred is shifty and watchful but also warm and protective. Guinevere's maid Brangien is gruff and caring and full of surprises. Lancelot is – well I won't spoil that for you but Lancelot is AWESOME. And Arthur is Arthur, duty-bound and an incredible leader and friend.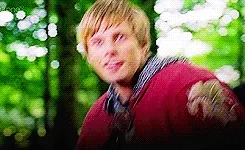 It's a long list, but here's some things I liked:
Female empowerment and the chance for the women in the story to take hold of their own destiny and choose their path
LGBTQ+ content
Single-minded villain who will do anything to get their revenge
Lots of foreshadowing for a bigger mystery of Guinevere's past
It was fun!!! There were tournaments and festivals and wild horse riding through spooky forests!
I loved the characters and can't wait to see where they end up in book two and three. Those who are new to Camelot will love the lush world building and twists at the end, and those who have seen or read about it before will feel right at home.
Hi y'all, i'm Rachel! When i'm not reading or talking about books I can be found rewatching Buffy the Vampire Slayer for the 72nd time, working on my own novel, cheering on JMU football (Go Dukes!) and taking advantage of all the great museums and breweries Richmond has to offer.
Check out my instagram highlights and Goodreads page for more reviews of all the books i've read this year!